I have become an ardent fan and supporter for formula one racing. It is an exciting sport and enjoyable especially if you love speed, and the science behind the F1 racing cars. As an entrepreneur, you might wonder, how does formula one make money?
As we watched the Turkish Grand Prix in 2020, a friend of mine asked; how does formula one make money?
Up to that point I had not really focused on this. So I went deep into research, to find out how formula one makes money, how the teams and the drivers make money. Here is what I found out.
How does Formula One make money?
Formula One makes money from broadcasting fees or TV commercial rights, advertising and sponsorships, race promotion fees or fees for hosting races and merchandising. These are the primary sources of F1 revenues and how formula one makes money.
The money that is generated by formula one is important as it helps to fund the operation of the sport. With all the logistics, car development, driver salaries and part replacements, this revenue becomes very critical to the success of the F1 sport.
There is a lot more to how formula one makes money that just the prize money at the end of a season.
Related: 17 Secrets Why Many Formula 1 Drivers Live in Monaco
You need to understand that, every team that is classified for the past two seasons receives about $35 million. Also, teams are paid based on the position they finished last year.
For example, Mercedes was given more money ($61 million) for finishing first in the 2019 season. Ferrari got $41 million for finishing third. Having won the 2020 season, Mercedes will equally receive more.
After that, teams qualifying for a "long-standing team" bonus were given $68 million. Ferrari was the only team to qualify.
Teams also get cash as a part of the constructor's championship bonus; Ferrari, McLaren, Mercedes, and Red Bull received $143 million in total.
Lastly, there are a collection of other bonuses, like a $10 million heritage prize awarded to Williams, and a $36 million bonus given to Red Bull for being the first team to sign the Concord agreement.
How Does Formula One Generate Revenues?
It is said that if you want to make a small fortune in auto racing, you should start with a huge fortune.
This is an old saying which is more relevant today than ever. The finances behind high-stakes, competitive F1 motorsports are ruthless, even more so than in any other mainstream sport.
The variables behind how teams, drivers, and sanctioning bodies like F1 make their money are not only wildly complex, but they can also change frequently, depending on evolving business needs, market conditions, and any number of other factors. Plus, the principals are deeply secretive, with most members of the racing fraternity unwilling to discuss contracts, salaries, or sponsorship deals.
In order to pay the bills, racing teams and their respective drivers need multiple sources of revenue, and these will vary depending on popularity, rank, and driver marketability.
Related: Is Mercedes F1 Team a Money Making Business?
These streams of revenue begin with sponsors, and include drivers, purse monies, services rendered, such engine building and supporting customer teams and lastly, merchandise revenue.
Formula one is oldest and most prestigious championship in the world. It has a neatly organized revenue system, but its inner workings are a rat's nest of politics and 50-year-old handshake deals.
The "Formula One Group" as a business enterprise is currently owned by Liberty Media, and is listed on the NASDAQ as FWONK.
The following is a breakdown of how Formula 1 as a sanctioning body makes its money, how F1 teams make their money, and lastly, how F1 drivers earn a living.
How does Formula 1 make its money? 
F1's biggest revenue stream comes from the sale of television rights, which in the United States alone was worth $4 million a season back 2017. This has since increased by the end of 2020 season.
Globally, television contracts added a staggering $587 million to Liberty Media's balance sheet.
Unlike most sports or racing series, Formula 1 handles all TV logistics at all of the venues and provide what's called a "global feed" to hundreds of TV networks, each of whom pay a hefty price of admission.
These networks add their own commentary and onscreen graphics.
F1 Second-Biggest Revenue Stream
Formula One's second-biggest revenue stream is made up what is called "race-sanctioning fees." This is basically the fee for hosting a formula one race.
Every F1 venue in the world, from a classic like Monaco to a newbie like Baku has to pay a massive fee to F1 to be added to the calendar.
Per Bernie Ecclestone, the former F1 supremo, all contracts have built-in confidentiality clauses that keep promoters from publicizing the fees and terms.
However, SEC filings show that F1 made $654 million in sanctioning fees for the 2016 season, which featured 21 races. This means that the average fee F1 charges is roughly $31 million. It's public knowledge that Monaco pays considerably less than that, most likely because, arguably, F1 needs Monaco more than Monaco needs F1.
F1's third-biggest revenue stream is a combination of ticket sales and other paid partnerships with companies or products. On top of the already hefty sanction fee, venues must pony up a percentage of the ticket sales to the racing organization, although this is typically accounted for in the initial contract.
Newer venues with higher fees typically pay less in admissions revenue, and established tracks with lower-than-average fees pay more from admissions.
How do Formula 1 teams make their money?
F1 teams are lean, mean, cash-making machines, regardless of whether they're at the top or the bottom of the points standings.
Sure, the smaller teams may have a harder road to travel, but that doesn't mean they are broke. A "small" team like Sauber outspends a top IndyCar team many times over, and the cash they bring in from wealthy aspiring racers or heavily sponsored future stars is measured in the tens of millions of Euros.
How Does Formula 1 Make Money from Sponsorships?
For F1 teams, revenue begins with one word: sponsorships. Without sponsors paying big bucks to apply their decals to the race cars, teams would not have enough money to show up at the tracks.
On average, sponsorship contracts are negotiated for a minimum of two years and a maximum of five, although most hover around the three-year mark.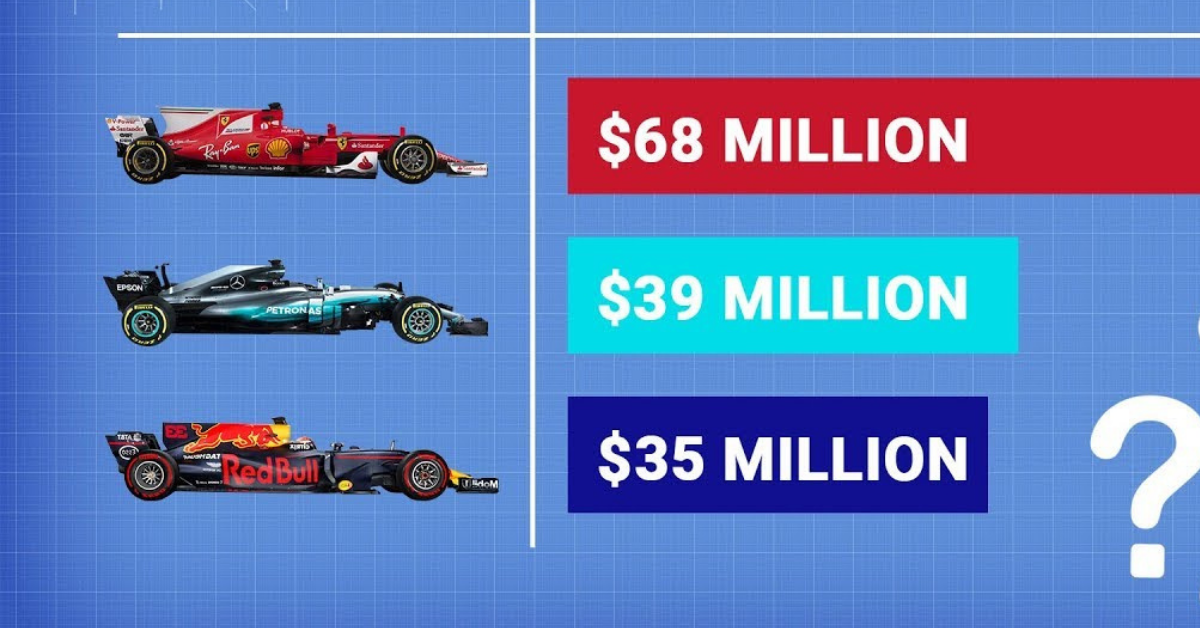 This allows teams to focus on getting the job done with relative peace of mind that the funds will be there next season—or next week.
However, an organization like Ferrari can command five- and ten-year contracts from companies like UPS, Ray-Ban, and its most important sponsor of all, Phillip Morris International, whose Marlboro brand pays over $150 million dollars per year to be squeezed into the team's formal name: Scuderia Ferrari Marlboro.
The second revenue stream is the most important for the smaller F1 teams, who do not bring in as much cash from sponsors as the big boys: Formula One Group (FOG) money.
Formula One New Concorde Agreement
At the end of every year, the Formula One Group ends up with a billionaire's sum from the year's business dealings. This lockbox is then doled out to the teams according to the terms of the last Concorde Agreement, a document signed by every F1 team in 2013.
As of 2017, each team was awarded $36 million for simply living to see another day. However, new teams won't receive this bonus until their third consecutive season.
As part of the new Concorde agreement, the FIA and the F1 governing body have put a $175 million budget cap from 2021. All the 10 formula one teams have signed up on this deal, which commits them to the F1 series until 2025.
However Mercedes and other high-spending rivals led by arch-rival Ferrari face new rules aimed at curbing their financial advantage over other F1 teams.
Teams will be restricted to spending $145m in 2021, a figure that will fall to $140m in 2022 and $135m from 2023 onwards.
Teams also receive bonuses for winning the constructors' championship, and for other competitive measures.
Long Standing Team Payments
Ferrari is the only team to receive an "LST" bonus, which stands for Long Standing Team, of $68 million for being with F1 since the get-go.
The third revenue stream for F1 teams comes from the drivers themselves. How? Aspiring racers need one of two things to get behind the wheel of an F1 car: cash or cash-rich sponsors.
Talent is a distant third, maybe fourth. Young racers from wealthy families can offer millions of dollars to support the team for the duration of the season, while others can use their sponsorship money to basically do the same.
In the end, paid or sponsored drivers represent serious income for racing teams. This must the case for Lance Stroll whose father is a billionaire.
Other considerable streams of cash for F1 teams come in the form of services rendered and licensing.
Let's use Ferrari as an example: The Italian team not only applies its logo to teddy bears, carbon fiber cigar humidors, and a wide variety of souvenirs, but it also sells engines and technical support to other teams, such as Sauber and HaasF1.
Mercedes-AMG Petronas, Sahara Force India, and Williams F1 are engaged in similar, profitable partnerships.
Mercedes-Benz Grand Prix generated pre-tax profit of £17.1m on revenues of £363.6m in 2019, up from £15.5m and £338.4m the prior year, driven by higher sponsorship and marketing revenue as the F1 team secured its sixth consecutive constructors' championship in a row.
By winning in 2020, they have now secured the seventh consecutive constructors' championship.
How F1 Drivers Earn their Income
Unlike drivers in other racing series, F1 drivers have very simple income models. All drivers earn a salary from the team, even those who pay to drive.
Formula One drivers are also allowed to pursue personal endorsements with other companies, although a percentage of these earnings must be shared with the team.
F1 drivers do not receive purse money from racing venues or from Formula 1 itself.
The Alonsos, Vettels, and Hamiltons of the world also enjoy hefty bonuses from their teams for scoring race wins, pole positions, fastest laps, and winning world championships.
Related: Do all F1 Drivers Come from Rich Families (No.5 Will Shock You)
And although these bonuses and salaries are kept under wraps, it's rumoured that Lewis Hamilton's salary is over $41 million per year.
Lewis Hamilton's contract negotiations always generate a great deal of interest. It should be the case after he secured his seventh driver's championship title at the Turkish Grand Prix in 2020.
Sources with ties to Sebastian Vettel claim that the German's bonus for delivering the fastest lap of the race was approximately $25,000 during his time at Red Bull and $500,000 for winning a Grand Prix.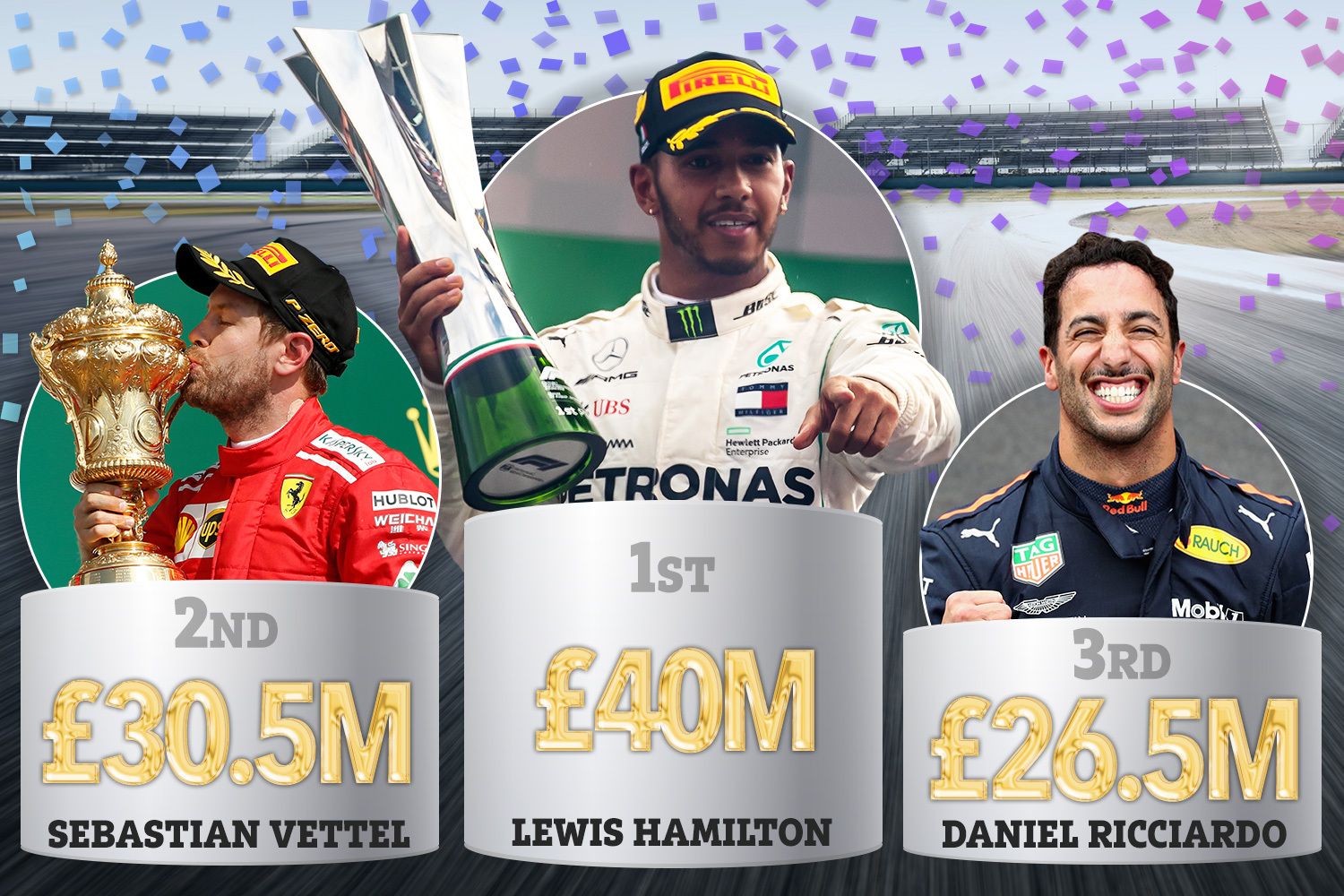 Frequently Asked Questions in Formula One
Do any f1 teams make profit?
It is possible to turn a profit for an F1 team. Running a formula one team requires a lot of money. Teams receives based on their performance every year. However, they also generate revenues or make money from other sources of income.
Do f1 teams lose money?
AlphaTauri team boss Franz Tost explained that there is a great deal of risk and fragility in a Formula 1 team.
This is especially true for a team that has been forced to sit on the sidelines for multiple races. It further revealing the cost of missing a Grand Prix. "If we don't drive a grand prix, it will cost one and a half to two million dollars," Tost said.
How much does f1 make a year?
F1 is one of the world's most-watched annual sports series. The races drive tourism by showcasing the host countries to 471 million TV viewers.
It explains why the fees hit an average of $28.7 million per race last year. This brings them to a total of $602.1 million which is F1's second-biggest revenue source.