Formula One calendar in 2020, like everything else has been affected by the global crisis. This has led to the races being held at new tracks and in places that have not held a formula one race for a while. It was a special and sensational to witness a Lance Stroll pole position. This was the case for the Turkish Grand Prix in 2020 at the Istanbul Park. Istanbul Park, also called Istanbul Racing Circuit, or as was initially known as the Istanbul Otodrom is a motor sports race track in the Tuzla district of Istanbul in Turkey. It was designed by the well-known racetrack architect Hermann Tilke and was inaugurated on 21
st
August, 2005. The circuit is currently managed by the Turkish company Intercity.
Lance Stroll Pole Position
Lance Stroll took his first pole position at the 2020 Turkish Grand Prix after a wet qualifying session at the Istanbul Park racing circuit in Turkey. In doing so, he became the first Canadian F1 driver to take pole position since Jacques Villeneuve at the 1997 European Grand Prix.
Stroll led the race for 32 of the 58 laps, but reported severe tyre graining and eventually fell to ninth place by the end of the race. After the race, Racing Point found damage on Stroll's front wing which they claimed was the cause of his tyre issues. The Canadian driver placed 0.3 seconds ahead of Red Bull's Max Verstappen, who looked certain to take pole after topping the first two sections of qualifying and had the leading time in Q3 when his team aborted the lap to switch him from wet tires to intermediate tires. "A special moment for me," Stroll said. "The highlight of my career." The move backfired and Verstappen was left feeling bitter and angry at the call, using an expletive over the team radio to describe the tires. "I can't really put it into words. I'm shocked," Stroll said. "I nailed pretty much every corner and put it together." On a strong day for Racing Point, Stroll's teammate Sergio Perez was third, while Red Bull's Alexander Albon finished fourth ahead of Renault's Daniel Ricciardo. 'Great way to bounce back'
Strong Qualifying Produces Lance Stroll Pole Position
The day belonged to Stroll, a much-criticized driver because his billionaire father owns the Racing Point team and because of poor recent form. Since clinching the second podium of his career at the Italian GP in early September, Stroll failed to finish three straight races and placed 13th in the other. "It's such a great way to bounce back after a few rough weeks," said Stroll. "I haven't scored a point since my podium in Monza. It's been a rough run, with incidents and being sick. So much has been going on."
Miserable Qualifying Day for Mercedes Team
It was a miserable day for Mercedes, with championship leader Lewis Hamilton qualifying sixth and teammate Valtteri Bottas only ninth. Mercedes team struggled to warm their tyres. It seems they are paying a price for setting up the car for hot conditions, and not having taken time to fully prepare for times when conditions would be very cold or wet. Both Ferraris failed to make it into Q3, with Sebastian Vettel in 12th place and Charles Leclerc 14th. Embarrassingly for Ferrari, Alfa Romeo drivers Kimi Raikkonen and Antonio Giovinazzi both made it into Q3 — using Ferrari engines. Hamilton only needs to finish ahead of Bottas to clinch his seventh F1 title and equal Michael Schumacher's record. Earlier, Verstappen was again fastest in a cold and rain-soaked final practice on a slippery track that Hamilton compared to an "ice rink" after Friday's two practice runs. Verstappen was quicker than Leclerc and Albon on a resurfaced Istanbul circuit last used in Formula One in 2011. Hamilton did not set a lap time in the last practice. Bottas pushed hard in a bid to get some heat into the tires and was eighth quickest but a huge seven seconds off Verstappen's time. Verstappen, who was fastest in both sessions on Friday, did well in treacherous conditions that caused several drivers to spin. Leclerc lost control early on and bumped Esteban Ocon's Renault off the track and McLaren's Carlos Sainz Jr. went off the track into the grass. Barely 20 minutes into the session, Leclerc slid off and narrowly avoided hitting the crash barriers. The race is being held without fans. This is the 14th race of the season and only three have been held with spectators. A small number of healthcare workers will be allowed to attend the next two races in Bahrain as a reward for their efforts in fighting the spread of pandemic. The final race is at Abu Dhabi on Dec. 13.
Turkish Grand Prix 2020 – How It Evolved
Racing Point's driver Lance Stroll ensured Formula One's pecking order was turned upside down when he mastered the elements to take pole for the Turkish Grand Prix in 2020. Derided by many, Stroll proved once again he can on occasion pull out an exceptional performance and at Istanbul Park did so to leave the sport's elder statesmen in his wake. Lewis Hamilton, attempting to secure his seventh title, qualified in sixth, crucially in front of his Mercedes teammate, Valtteri Bottas, who was in ninth. His championship efforts remain on course but the Briton decried the track surface as a nightmare and the session as one of the least enjoyable of his career.
Related: Lewis Hamilton Wins the Turkish Grand Prix in 2020
With qualifying plagued by rain under grey, glowering clouds hanging low over the circuit, an upset of sorts had always looked on the cards and Mercedes's unbeaten record in the single-lap discipline was under real threat for the first time this season. The honour had appeared to belong to Red Bull's Max Verstappen, having been on top of intensely tricky conditions at the circuit all weekend. The track was wet and was resurfaced two weeks ago, so it was sorely lacking in grip.
Racing Point Takes a Gamble on Tyres towards Lance Stroll Pole Position
As the clock ticked down in Q3 and the lap times dropped, Stroll and Racing Point had their measure. The team, for whom this is their first pole, had taken a gamble to send their drivers out on intermediate tyres on their final runs. It looked risky at first, but soon paid off as their rivals had opened on the full wet tyres. His teammate, Sergio Pérez, who was third, swiftly proved they were right by topping the time sheets and a tense final shootout occurred as the other teams also switched to inters. But the Racing Point drivers already had more heat in their tyres and a slight edge. Stroll made it count, beating Verstappen into second by almost three-tenths, the Dutchman perturbed that he could not switch on the intermediate tyres in the final laps. Stroll had to survive an investigation, but the stewards judged he had correctly lifted off under the yellow flags. He thereby became the first Canadian to take a pole since Jacques Villeneuve, in 1997, and he felt there was sense of redemption in his efforts. Lance stroll pole position was well deserved. He has not scored a point for five races and was heavily criticised when he did not take a test after feeling ill at the Eifel Grand Prix, after which he became sick. "It was such a crazy session, the wet conditions, it was so slippery right through qualifying," he said "It was about being on the right tyre at the right time at the end, we decided to go on to the intermediate in Q3 and I had one lap to deliver at the end of qualifying. I had the confidence in the car and the consistency in my driving to do it. I really pieced my lap together nicely, didn't make any mistakes. Mercedes could not master the lack of grip but Hamilton is still in every position to match Michael Schumacher's record. Having already surpassed Schumacher's totals of poles and wins, it will ensure he is the most successful driver in the sport's history. Hamilton leads Bottas by 85 points and if he is 78 ahead after this round the title will be his. A win would seal it as would any finishing position in front of the Finn. Bottas must finish eight points clear of Hamilton to extend the title fight.
Slippery Istanbul Park. Lack of Grip
This has not been an easy weekend for the teams, however. The great anticipation at returning to Istanbul Park, which has not hosted a race since 2011, turned to disappointment when the track suffered from a lack of grip. The new surface is very slippery, having yet to dissipate the oils used in the process. The tyres are not coming up to their operating temperature window and many drivers have noted how treacherous the subsequent lack of grip is proving. "The track feels terrible," said Hamilton. "Just like driving on ice. For whatever reason some can get their tyres working better than us. This track, they ruined it with the resurfacing of circuit, made it tricky for everyone. "This whole weekend has been nightmare to be honest, the track surface grip is the worst I've experienced in years of racing. Definitely one of least enjoyable, if not the least enjoyable qualifying I have had." The day, however, belonged to Stroll, who has proved before in qualifying at Monza in 2017 that he has a fine touch in the wet but remains the subject of intense scrutiny and often criticism because he has been bankrolled into the sport by his billionaire father, who owns the team. Perhaps he will silence his critics on Sunday when the real test begins. Verstappen will be confident he will be quicker than the Canadian in a dry race, while behind them Hamilton will have eyes on only one prize: beating Bottas and taking the title. The Red Bull of Alexander Albon was in fourth and the Renault of Daniel Ricciardo in fifth. Esteban Ocon was in seventh and Alfa Romeo's Kimi Räikkönen and Antonio Giovinazzi in eighth and 10th. Lando Norris was in 11th for McLaren and his teammate Carlos Sainz was in 13th but will take a three-place grid penalty for impeding Pérez. Sebastian Vettel and Charles Leclerc were 12th and 14th for Ferrari, with Pierre Gasly in 15th for AlphaTauri. The Haas of Kevin Magnussen went out in 16th and his teammate Romain Grosjean in 19th. Daniil Kvyat was in 17th for AlphaTauri, with George Russell and Nicholas Latifi in 18th and 20th for Williams, but Russell will start at the back of the grid after taking engine parts beyond the allocated number.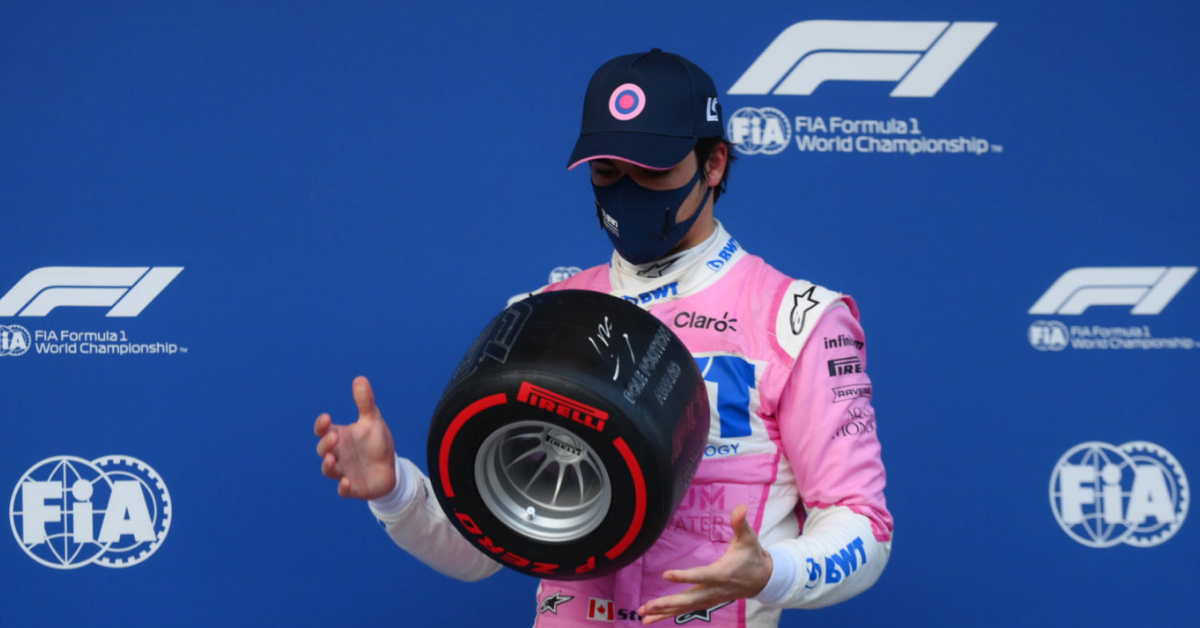 Lance Stroll's Personal Life
Stroll is the son of billionaire Canadian businessman Lawrence Stroll, part-owner of the Racing Point F1 Team and Belgian fashion designer Claire-Anne Callens. Stroll has an older sister named Chloe.Stroll races under the Canadian flag and holds both Canadian and Belgian citizenship
Lance Stroll to Join Aston Martin in 2021
Stroll is due to continue to drive for the Racing Point team in 2021, as they become Aston Martin. He will be partnered by Sebastian Vettel in place of Pérez. The Canadian driver said he will not play sidekick to Sebastian Vettel in the 2021 season. Are we going to witness another Lance Stroll pole position in the future? Only time will tell.