Over the last couple of years, I have been faithfully watching and following the formula one sport and racing. It has captured my mind and psyche. If you are like me, then at one point you have wondered; how many grand prix has Sebastian Vettel won?
One of the popular names in formula one is that of former world champion Sebastian Vettel. A German racing driver, born on 3rd July, 1987. He is currently racing for Scuderia Ferrari alongside teammate Charles Leclerc.
How many Grand Prix has Sebastian Vettel won?
In all, Sebastian Vettel has won 53 Grands Prix at 21 different circuits. Thirty eight (38) of those race wins came when he drove for Red Bull Racing. He has won 14 races with Ferrari and 1 when he raced for Toro Rosso.
Vettel started his Formula One career as a test driver for BMW Sauber in 2006 and made his racing debut with the team at the 2007 United States Grand Prix, replacing the injured Robert Kubica.
How Many Grands Prix has Sebastian Vettel Won? World Championships
Sebastian Vettel has won many grands prix since he joined formula one racing. He is a four-time F1 World Champion having won consecutive titles from 2010 to 2013 with Red Bull Racing.
In addition to holding a number of 'youngest' records in Formula One, Vettel holds the records for the most consecutive race wins (9) and the most race victories in a single season (13), as well as accumulating the third most race victories (53), podium finishes (120) and the fourth most pole positions (57).
Already part of the Red Bull programme, he joined Toro Rosso later in the season, and was kept as a driver for 2008.
In his first full season in Formula One, he became the then-youngest pole-sitter and race winner at the 2008 Italian Grand Prix.
Vettel was promoted to Red Bull for the 2009 season, and became the youngest driver in history to win the World Drivers' Championship in 2010. Three more titles in succession followed; Vettel won the 2010 and 2012 titles in the final round, while he dominated in 2011 and 2013. He left the team at the end of 2014 and signed with Ferrari.
He then won three races in his first season at the team in 2015, finishing third in the championship.
Vettel was the closest challenger to the Mercedes driver Lewis Hamilton in 2017 and 2018 but finished both seasons as runner-up with five wins in both seasons.
His contract with Ferrari was not extended beyond the end of 2020. He is signed to race for Aston Martin from 2021 replacing Sergio Pérez.
Sebastian Vettel Wins 2019 –2020 F1 Seasons
Sebastian Vettel competing for Ferrari on their 1000th Grand Prix, a race in which he finished in 10th place
After showing impressive pace throughout pre-season testing in Barcelona, Vettel and his new teammate Charles Leclerc headed to Australia with many pundits believing they had the car to beat for the 2019 season.
The opening weekend proved to be difficult, however, as Vettel qualified some seven tenths off pole position in third and finished the race in fourth place.
Third-place finishes in China and Azerbaijan followed, as Mercedes continued to dominate. Vettel took pole position in Canada; his first pole in 17 races.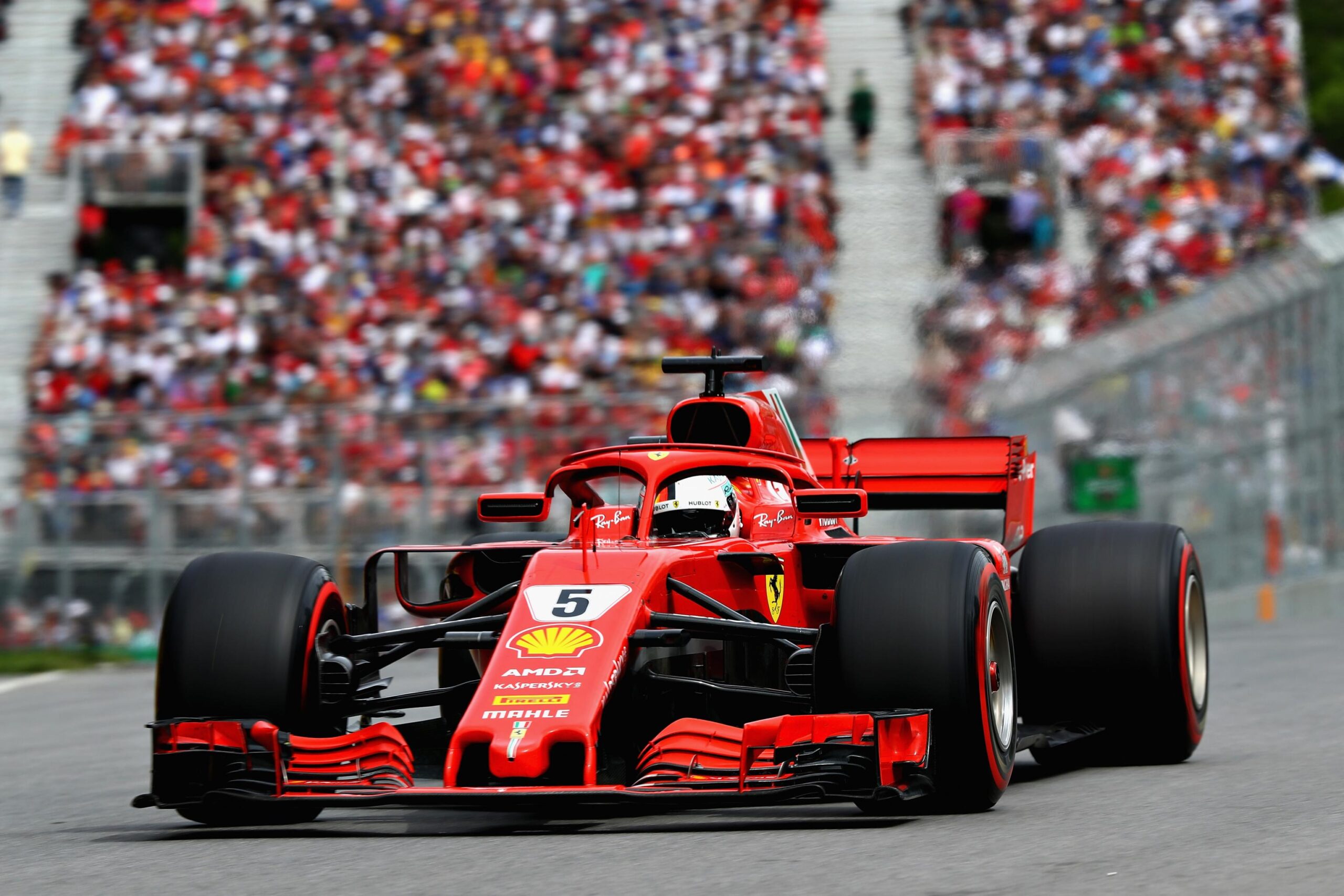 Midway though the race, a snap of oversteer caused him to run wide onto the grass. Vettel received a five-second time penalty from the stewards, who believed he had returned to the track "in an unsafe manner and forced Hamilton off track".
Vettel crossed the line in first place but lost his victory as a result of the penalty. After the race, he swapped the number one and two signs in front of Hamilton's Mercedes and his own car.
At the German Grand Prix, Vettel was unable to qualify after a turbo issue, which meant he would start in last place. During a race with mixed weather conditions, Vettel climbed up to second place.
In Italy, Vettel spun at the Ascari chicane and when he re-entered the track, he made contact with Racing Point's Stroll. Vettel received a 10-second stop-go penalty and finished in 13th place.
At the Singapore Grand Prix, Vettel won on a circuit Ferrari were expected to struggle at. For the first time, Vettel had won five times at the same track.
Team Radio Swap in Russia
The following race, in Russia, Vettel went from third place on the grid to first place in the first corner. However, radio transmissions suggested that the team wanted to swap their drivers, but with Vettel the quicker driver, he remained in front.  Sebastian Vettel retired soon after with a MGU-K problem.
Vettel took pole position in Japan, but an abrupt start off the line caused him to momentarily stop before getting away, which allowed Bottas to take the lead; Vettel was not penalized for his jump start.
After running in third at the Brazilian Grand Prix for the majority of the race, a safety car allowed Red Bull's Alexander Albon and an aggressive Leclerc to overtake him. He tried to pass his teammate immediately but the two Ferraris collided, resulting in another retirement for Vettel.
He finished fifth in the World Drivers' Championship, and was outscored by a teammate for only the second time across a season.
Ferrari later announced they would not extend Vettel's contract beyond the 2020 season. Team principal Mattia Binotto explained there was "no specific reason" for the decision, though both parties noted it was an amicable agreement.
The 2020 season was disrupted as the first ten races of the original calendar were either rescheduled, postponed or cancelled altogether. Ferrari discovered problems on their car following pre-season testing, forcing them to make a major redesign.
The SF1000 lacked pace as Vettel finished the season's opening race in Austria in 10th place. During the weekend, he was also given a warning for breaching the FIA's COVID-19 protocols after he was seen mixing with members of his former team Red Bull.
The following race, at the Styrian Grand Prix, Vettel retired on the opening lap with rear wing damage following a collision with Leclerc.
Vettel to Miss Bahrain Grand Prix – 2022
Sebastian Vettel is going to miss the opening race in 2022. The Bahrain Grand Prix, scheduled for the weekend of 18-20 March will proceed without the Aston Martin driver.
He was ruled out after getting unwell and confirmed testing positive for Covid-19.
To replace him, Hulkenberg will race for the Aston Martin in Bahrain.
Frequently Asked Questions
How many wins does Sebastian Vettel have?
In all, Vettel has won 53 Grands Prix at 21 different circuits; the majority of his race victories (38) came with Red Bull; he has also won 14 races with Ferrari and 1 for Toro Rosso.
When did Sebastian Vettel win his first championship?
Sebastian Vettel's first championship, at the age of 23, provided a surprise ending to an intensely competitive 2010 campaign. There was surely more to come from this fast rising racer, and it came quickly when he completely dominated in 2011 to become the youngest double world champion.
Why did Sebastian Vettel leave Red Bull?
Sebastian Vettel left Red Bull in 2014 in pursuit of a new challenge, and joined Scuderia Ferrari.
To answer the question of why Vettel left Red Bull, one has to look at the many factors that could have played a role. These include the arrival of Daniel Ricciardo and also the fact that Ferrari offered him $92 million to come to Maranello.
Who Will Vettel drive for in 2021?
Sebastian Vettel will drive for Aston Martin in 2021 F1 season.
The Four-time Formula One champion will move to the Racing Point team being rebranded as Aston Martin for the 2021 season.
Vettel will replace Mexico's Sergio Perez, who confirmed that he will not remain with the team beyond the current 2020 season.