If you are a fan or follower of formula one, then you have come across or heard of Lewis Hamilton. You could be wondering, how many championships has Lewis Hamilton won?
Hamilton is considered by many as one of the most complete drivers on the formula 1 grid. The Mercedes driver is regarded as one of the fastest qualifiers in the history of the sport.
He has received praised for his ability to produce fast laps at very crucial moments. The British driver is a tenacious race and excels in wide range of F1 racing areas given his aggressive driving style.
With all these accolades, one question remains; how many championships has Lewis Hamilton won so far?
How many championships has Lewis Hamilton won?
Lewis Hamilton has won a record seven (7) FIA World Driver's Championship Titles. The seventh title was won at Turkish Grand Prix in 2020. He is now an all-time record holder tied with Michael Schumacher. However, Lewis Hamilton holds the outright records for the most wins at 100, pole positions at 97, podium finishes at 227 and career points at 3738.
As he continues to race in the upcoming seasons of 2021 through to 2023, it is expected that more records will be broken and you are likely to see him clinch the eighth title.
The future truly looks exciting. You do not want to miss it.
How Many Championships Has Lewis Hamilton Won? 2007 – 2008 Season
It was a great start for Lewis Hamilton in Formula One. He started by partnering with two-time and defending World Champion Fernando Alonso.
After finishing on the podium in his debut, Hamilton went on to set several other records as he finished second in the 2007 World Driver's Championship to Kimi Raikkonen by one point.
The other those for the most consecutive podium finishes from debut (9), the joint most wins in a debut season (4) and the most points in a debut season (109).
Following a successful first season at McLaren, Hamilton signed a multi-million-pound contract to stay with the team until 2012.
Hamilton's success continued in 2008. He amassed five victories and ten podium finishes but was also accused of arrogance and dangerous driving, though he argued that his self-belief was wrongly interpreted and that his driving was firm but fair.
As the season reached its conclusion in Brazil, it became a clear two-way fight for the title between the home favourite Felipe Massa and the young Briton.
Hamilton won his first title in dramatic fashion; on the last corner of the last lap in the last race of the season, becoming the then-youngest Formula One World Champion in history as he denied race-winner Massa the title by one point.
This made Hamilton the first British driver to win the World Championship since Damon Hill in 1996.
2009 – 2012: How Many Championships has Lewis Hamilton Won?
In his last four years with McLaren, Hamilton continued to score podium finishes and race victories, but a culmination of less competitive machinery and a self-confessed loss of focus saw him fail to finish higher than fourth in the drivers' standings.
Hamilton entered the final round of the 2010 season with a chance of winning the title, but ultimately finished fourth as Sebastian Vettel won the race to take his maiden drivers' crown.
The following year was the first season he had been out-scored by a teammate, as Jenson Button finished runner-up to champion Sebastian Vettel, during a year in which distractions in his private life and run-ins with FIA officials saw Hamilton finish a lowly fifth in the standings, after which he vowed he would return to form for 2012.
Keeping to his word, Hamilton achieved four race-wins in the 2012 season as he finished fourth in the standings. Before the end of the year, Hamilton announced, to much surprise, that he would be joining Mercedes for the 2013 season, replacing the retiring Michael Schumacher.
Championships Lewis Hamilton Won in 2013 – 2016 F1 Seasons
Upon signing with Mercedes in 2013, Hamilton was reunited with his childhood karting teammate, Nico Rosberg. The move was met with surprise by pundits and the public, with some describing the move to Mercedes, a team with no recent history of success, as a gamble.
In his first season with the Silver Arrows, Hamilton secured a sole race victory, winning the Hungarian Grand Prix, where he converted an unexpected pole position into a winning margin of over 11 seconds ahead of second-place finisher Kimi Räikkönen, alongside a number of podium finishes and pole positions, finishing fourth in the standings once again, the third time in five years
Changes to regulations ahead of the 2014 season, which mandated the use of turbo-hybrid engines, contributed to the start of a highly successful era for Hamilton as he found himself in the most dominant car on the grid.
That year saw Mercedes win 16 of the 19 races that season, 11 of those secured by Hamilton as he prevailed in a season-long duel for the title against teammate Rosberg. Clinching his second drivers' title, and eclipsing the victory tally of all British drivers before him,
Hamilton declared over team-radio after the final race in Abu Dhabi, "This is the greatest day of my life". New driver number regulations brought in for 2014 allowed drivers to pick a unique car number to use for their entire career, and so Hamilton elected to drive under his old karting number, 44, for the remainder of his career.
Ahead of the 2015 season, Hamilton announced he would not be exercising his option of switching his car number to 1, as was his prerogative as reigning World Champion, and would instead continue to race with his career number 44.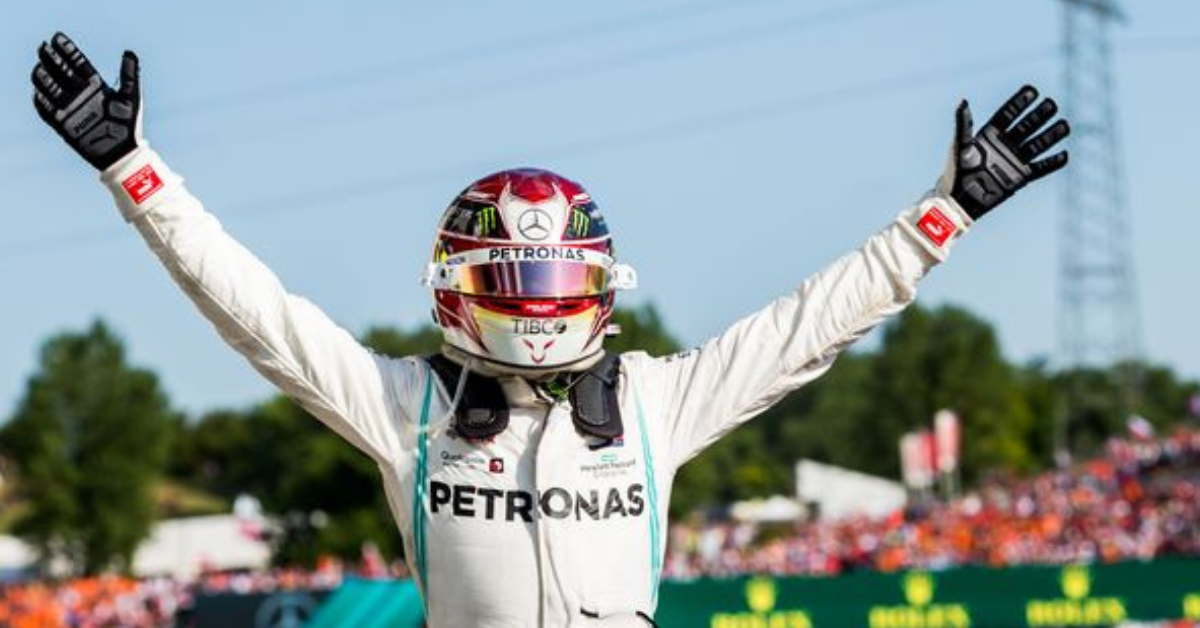 It was the first season since 1994, when Alain Prost retired from the sport following his fourth and final World Drivers' Championship title in 1993, that the field would not contain car bearing the number 1.
Hamilton dominated the 2015 season, winning ten races finishing on the podium a record seventeen times as he matched his hero Ayrton Senna's three World Championships titles.
The rivalry between him and Rosberg intensified, climaxing in a heated battle at the US Grand Prix where Hamilton won in an action-packed, wheel-to-wheel battle with his teammate to clinch the title with three races to spare.
That year, Hamilton extended his contract with Mercedes for three additional years in a deal reportedly worth more than £100 million, making him one of the best-paid drivers in Formula One, as well as allowing Hamilton to retain his own image rights, which is considered unusual in the sport, and keep his championship-winning cars and trophies.
Despite recording more pole positions and race wins than any other driver in 2016, Hamilton lost the drivers' title by five points to his teammate, Rosberg.
The team's policy of letting the pair fight freely led to a number of acrimonious exchanges both on and off the track, culminating in Hamilton defying team-orders at the season finale in Abu Dhabi.
He deliberately drove slowly to back Rosberg into the chasing pack at end of the race in an unsuccessful bid to encourage other drivers to overtake his teammate, which would have allowed him to win the title.
Ultimately, a lack of reliability and a handful of driving errors from Hamilton helped Rosberg get closer than in previous years, and a crucial engine blowout in Malaysia allowed the title to fall into Rosberg's hands, which he successfully secured before announcing his shock retirement from the sport immediately after beating his rival.
2017 – 2020: How Did Lewis Hamilton Win?
Following Rosberg's retirement, Ferrari's Sebastian Vettel became Hamilton's closest rival as the pair exchanged the championship lead throughout 2017 in a tense title fight.
Hamilton registered 11 pole positions that season as he took the record for the all-time most pole positions, and his consistency finishing every race in the points, as well as a lack of a serious challenge from his new teammate Valtteri Bottas, saw him record nine race victories and secure his fourth World Drivers' title as he overturned a points deficit to Vettel in the first half of the season, ultimately wrapping the title up in Mexico with two races to spare.
The 2018 season was the first time that two four-time World Champions, Hamilton and Vettel, would be competing for a fifth title and was billed as the Fight for Five by journalists and fans. As with the season before, Ferrari and Vettel appeared to have the upper hand for much of the season, topping the standings until the half-way point.
However, Vettel's season unraveled with a number of driver and mechanical errors, while Hamilton's run of six wins in seven in the latter half of the season saw Hamilton clinch the title in Mexico for a second year running as he set a new record for the most points scored in a season (408). During the season, Hamilton signed a two-year contract with Mercedes, reported to be worth up to £40  million per year, making him the best-paid Formula One driver in history.
Having signed a contract with Mercedes that lasts until 2020, it was confirmed Hamilton would defend his title in 2019. Hamilton led the drivers' standings for the majority of the season, fending off title challenges from team-mate Bottas, the Honda-powered Red Bull of Verstappen and Ferrari's recently promoted Leclerc, to clinch his sixth drivers' crown at the 2019 United States Grand Prix with two races remaining.
After scoring his sixth career grand slam in the final race of the season, Hamilton ended the season with 11 wins, matching his previous best in 2014 and 2018, and 17 podiums matching the all-time record for a fourth time as well as achieving 5 pole positions.
His total of 413 points for the season was a new all-time record, seeing the Briton finish 87 points clear of second-placed Bottas.
As of the thirteenth round of the 2020 season, Hamilton has taken wins at the Styrian, Hungarian, British, Spanish, Belgian, Tuscan, Eifel, Portuguese and Turkish Grands Prix.
At the Portuguese Grand Prix, Hamilton also took his 92nd Formula One win, breaking the record previously held by Michael Schumacher.
Hamilton's victory in Turkey saw him seal his seventh drivers' title, equalling Schumacher's record of seven World Championship titles.